Earhart Gin
Famed aviator Amelia Earhart landed her aircraft here in Derry in May 1932, becoming the first female to fly solo across the Atlantic, and capturing imaginations with her thirst for adventure.
Almost a century on, the courageous trailblazer has a new accolade: Derry's first ever gin, named in her honour.
Natural botanicals, plucked from the very field where Earhart landed, mingle with juniper berries to create the deliciously refreshing, small batch Earhart Gin. You can try it for yourself it in selected LegenDerry bars and restaurants, or pick up a bottle to savour at home. Serve with light tonic and a twist of lemon peel, or let the gin's elderberry tones really take flight by adding lime, mint, elderflower syrup and cloudy apple juice, topped off with soda water.
Look closely at its label and you'll see a message in the bottle, too: a vintage map of Earhart's route across the Atlantic. We'll drink to that.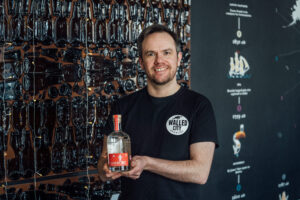 ---